Personnel of each department discussed the stakeholders involved in business activities, interaction, and exchange to determine the types and targets of stakeholders. Then, they assessed stakeholder groups in terms of the attributes of stakeholders as specified in AA-1000SES: dependency, responsibility, influence, diverse perspectives, and tension. After the discussion between the ESG Implementation Team and senior officers, the following five stakeholder groups were identified: shareholders, customers, employees, suppliers, and external parties (the general public, the government, local communities, the media, NGOs, and academic units). To address the issues that concern stakeholders, we have established various communication mechanisms to reliably address stakeholders with the information they expect.
To better understand the needs of stakeholders, their expectations of TOPCO, and the matters that concern them, we designed a questionnaire based on two constructs: the stakeholders' level of concern and the significance of impact on corporate operations. Stakeholders were surveyed online, and a total of 133 responses were collected. After cross screening, issues of external concerns and issues with internal impacts were selected and visualized in a matrix of material issues.
In this report, a total of 20 economic, environmental, and social issues were included. A process for identifying materials issues affecting sustainable development was established for the reference of CSR information disclosure in order to realize our commitment to sustainable operations.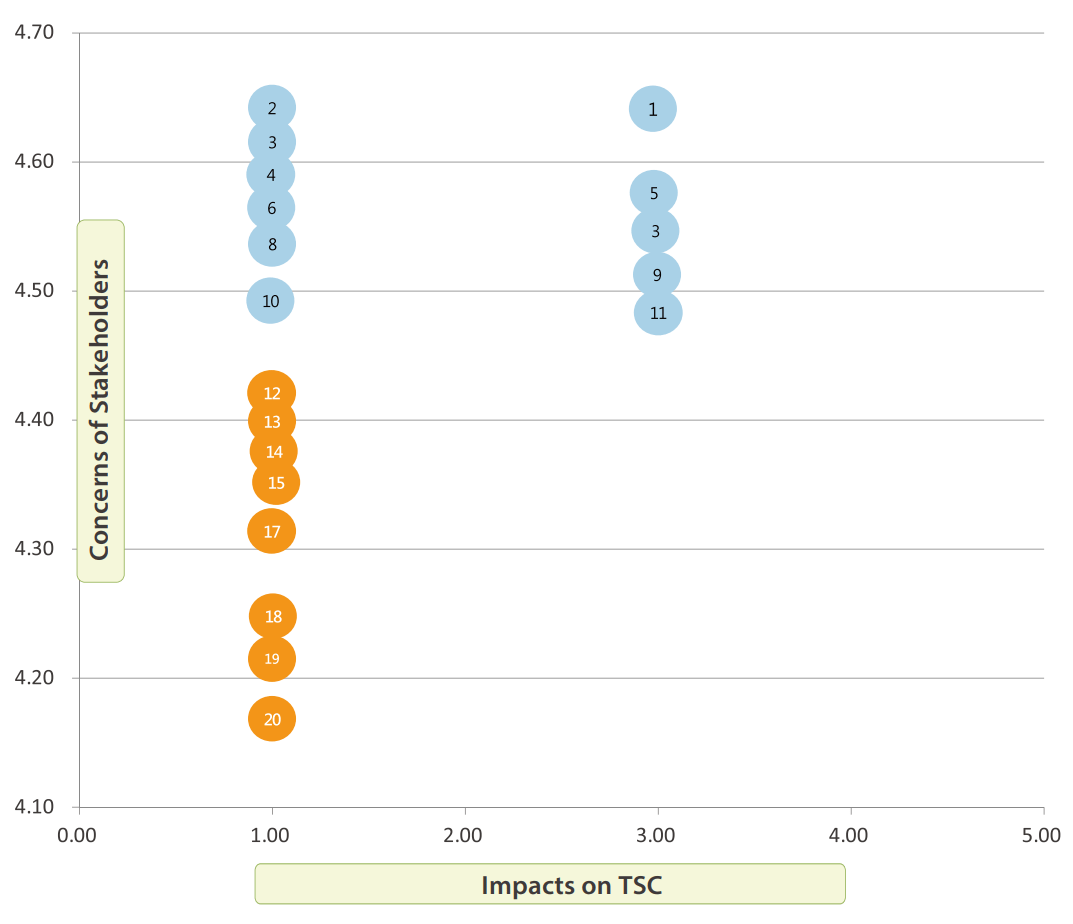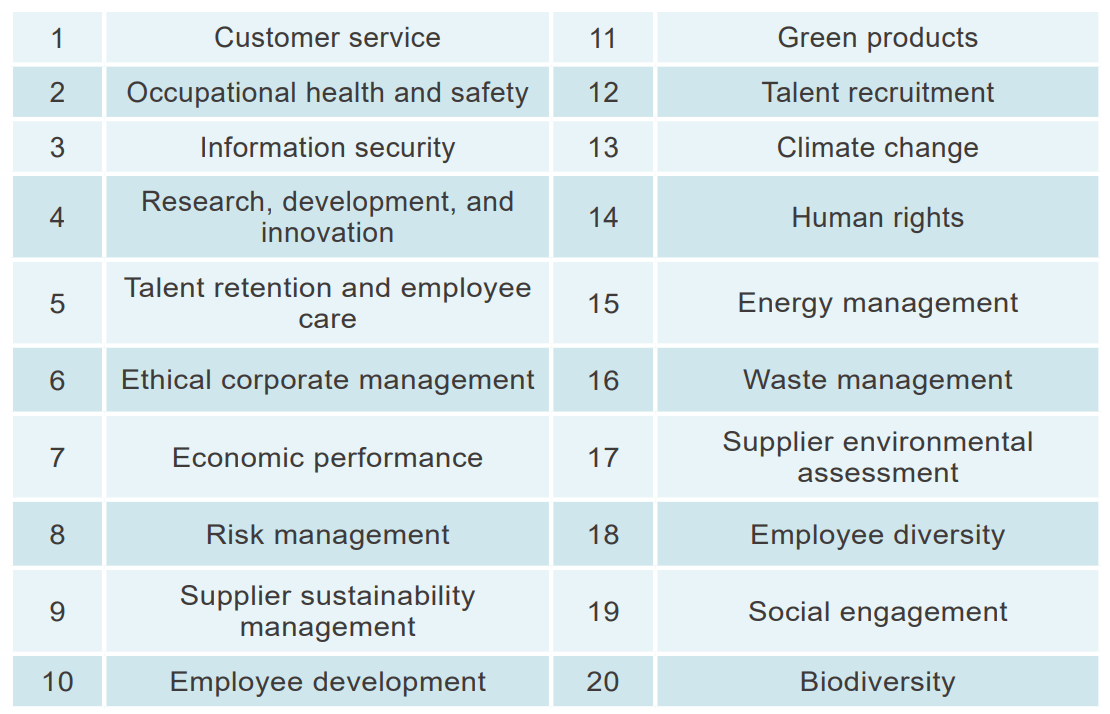 Results of Impact Assessment of Material Issues
Issues of stakeholder concern
Fulfilling the expectations of stakeholders is an important goal of our CSR policy. We communicate and interact with stakeholders in different ways. The communication methods and channels are as follows:
Material issues, GRI topics, and impact boundaries identification table
After identifying the material issues, we further verified the internal and external impacts of material aspects on the organization and disclosed them in this report in terms of their scope, boundaries, and time. We also discussed material issues with senior officers and established strategic approaches and countermeasures to strengthen communication with stakeholders. Explanation of the difference from the previous year: This year's inclusion of key issues of concern to external ESG assessment units and the blueprint of sustainable strategies are for discussion and consideration, and the survey results in 2022 are different from those of the previous year. Differences include increased attention to issues such as "Research, development, and innovation ", " Talent retention and employee care ", "Risk management", and "Green products", and related issues have been included in the company's long-term management considerations.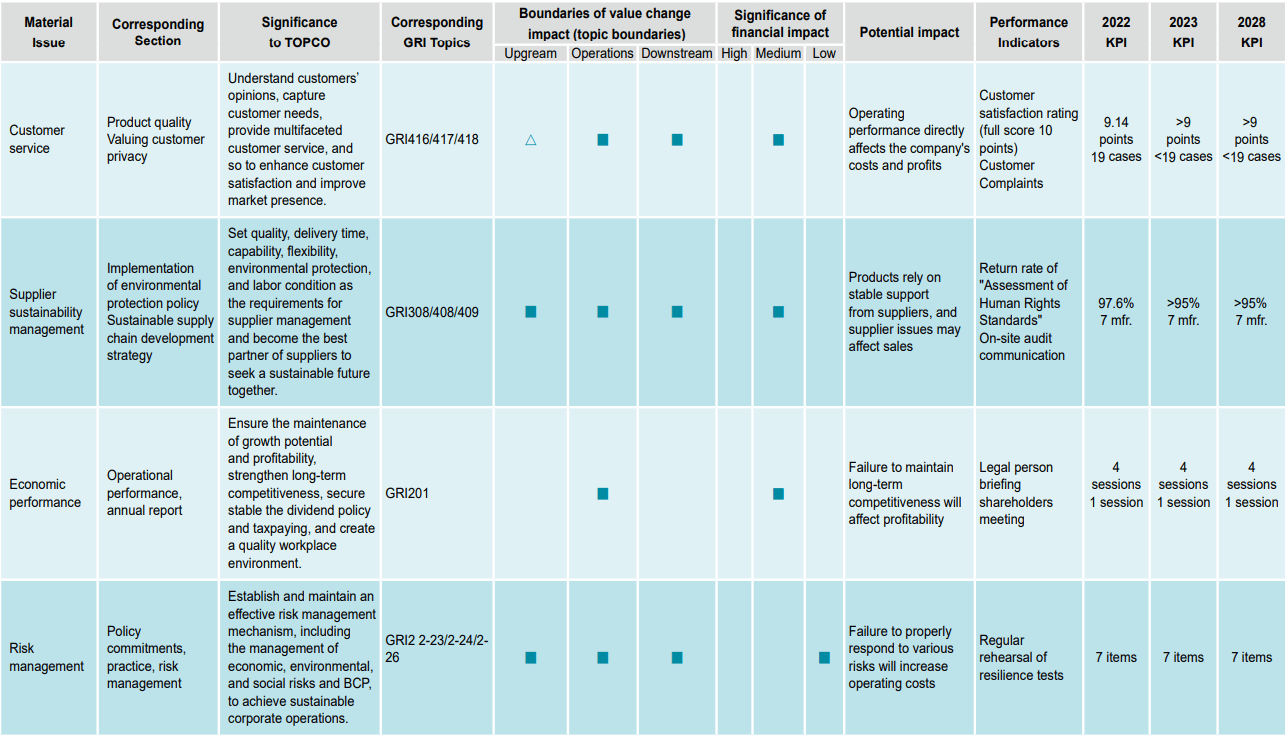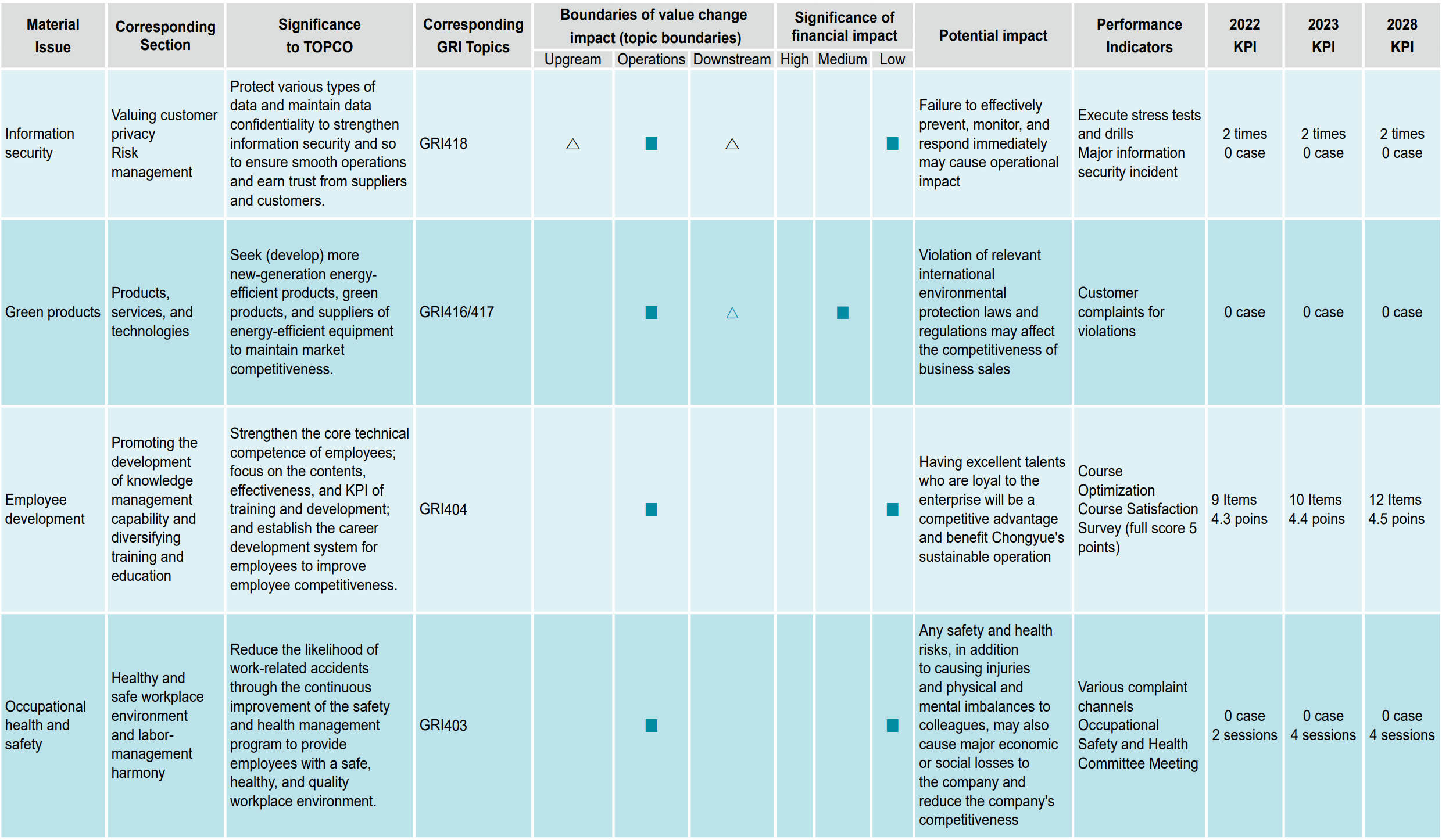 Strategic guidelines for dealing with material issues
The working team reviewed the differences of material issues in the previous report, improved the understanding of stakeholder needs, and addressed and communicated such needs. The working team reviewed the report after completion, included the compilation results as an important reference for the next year's report, and ensured that the issues of stakeholder concern were fully disclosed with correct and appropriate information.