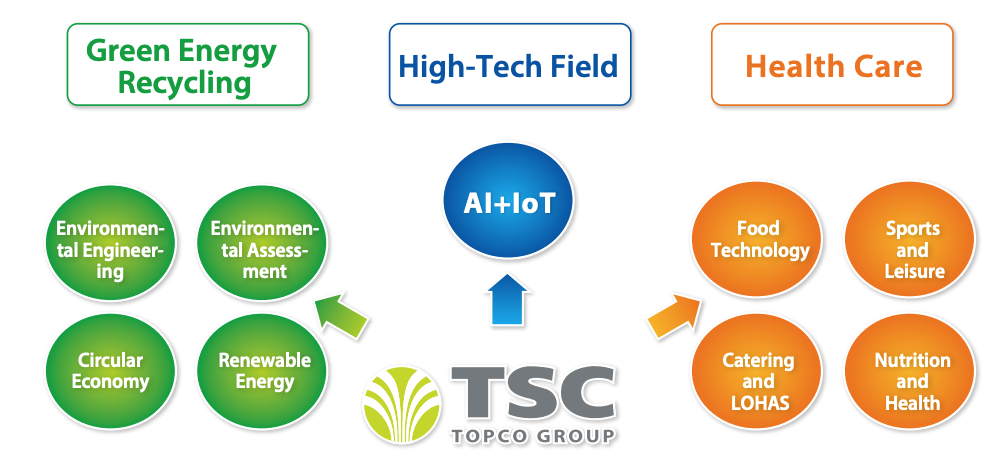 we have since been maintaining high growth in both operations and profit. As a multifaceted supplier for high-tech industries, we always adhere to our core services while extending to new areas at the same time. In response to the future global trends of environmental protection, energy conservation, and carbon reduction, we uphold our CSR to actively develop the green energy business by integrating three core capabilities: technology R&D, engineering management, and system planning to focus on areas including industrial wastewater treatment, urban wastewater treatment, waste disposal, clean room construction, aircon engineering, and mechanical engineering and provide comprehensive services covering engineering, procurement, and construction (EPC), system processing unit installation and sales, and waste disposal and recycling, aiming to practice "recycling," "purification," and "reengineering." To develop the healthcare industry with science and technology, we placed huge investments in building a food safety system and promoted correct food education concepts to introduce to promise a future of sustainable health for the public and set a model for happy life. By combining group strengths and integrating innovative OEM technology, quality shopping space, science and technology, leisure, and food education, we expand the domestic and overseas markets through diversified marketing, shorten the gap between people and health, and thereby promote regional industrial revitalization and promote socioeconomic prosperity to set a model of quality for Taiwan's food science industry.
Development of Recycling Technology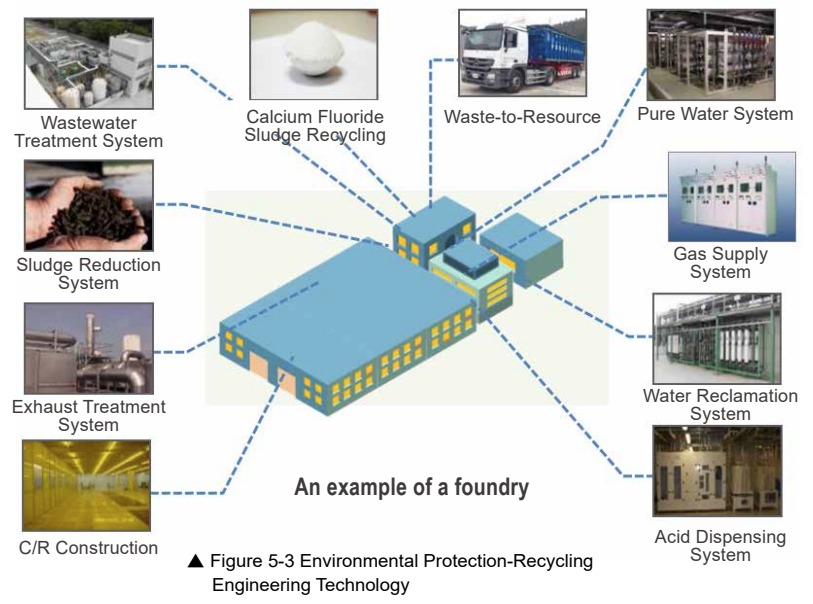 ECO Technical is an integrated environmental protection company, with the scope of services covering the engineering, procurement, and construction (EPC) of industrial water treatment, urban sewage treatment, waste disposal, clean room construction, aircon engineering, and electrical engineering; the installation and sales of processing units; and waste disposal and recycling.
As a TOPCO member, ECO Technical has been upholding the concept of "always be better!" Besides professional technology and management ability, ECO Technical actively maintains the ISO 45001:2018 OH&S management system and the ISO 9001:2015 quality management system. It will continue to implement the ISO 14001 environmental management system. ECO Technical is confident to provide customers with the best-quality service and complete EPC guarantee. Additionally, ECO Technical also provides employees with a safe and trustworthy workplace environment. With a proactive and creative attitude, ECO Technical will always be committed to environmental engineering to realize the corporate responsibility to serve people and love Earth.
Taiwan's first low-impact development Wenqing Water Park for sustainable ecology
After the Taoyuan Metro started service in 2017 and Linkou urban development, Linkou becomes the transportation hub linking Taoyuan City, New Taipei City, and Taipei City. The affordable housing in Zone 4 at station A7 in Linkou Special District has been completed and handed over. To solve the domestic sewage problem in the area around station A7 and reduce the burden of river pollution, it is necessary to build a water recycling center to recycle and reuse water resources, reduce environmental pollution, and improve living quality.
Wenqing Water Recycling Center revolutionizes the stereotype of traditional sewage treatment plant by building sewage treatment facilities underground to effectively use the overground space. By designing the center into a park, we have totally flipped the neighbor's negative image about sewage treatment plants: dirty and odorous. Besides purifying water, Wenqing Water Recycling Center also provides residents with a leisure space and creates a local landscaping image.
Received the 5th Public Construction Project Golden Quality Award organized by the Taoyuan City Government from Taoyuan City Mayor Wen-tsan Cheng. Rober Lai, Chairman of ECO Technical (first from left), and General Manager K.C Hsieh (second from right) received the award on behalf of the company
Recycling calcium fluoride sludge into artificial fluorite
Hydrofluoric acid will be used surface treatment, washing, and etching in the production process of semiconductor, panel, and optoelectronics industries. It becomes hazardous spent hydrofluoric acid after use. Through the wastewater treatment process, it becomes inorganic calcium fluoride sludge.
Inorganic calcium fluoride sludge is the industrial waste produced by the semiconductor, panel, and optoelectronics production processes. As a government-regulated industrial waste, it is necessary to be transported and disposed by means of reuse or landfill by licensed transporters and disposal companies.
ECO Technical helps customers dispose of inorganic (calcium fluoride) sludge at a high priority. Each month, ECO Technical successfully recycles 1800MT of calcium fluoride sludge into 1080MT of artificial fluorite to fully supply to steelworks at home and abroad as flux to effectively reduce the energy demand of the steelmaking process, improve steelmaking quality, and reduce waste disposal costs to enforce the circular economy and improve social image.
Actual performance of recycling into artificial fluorite